Our Philosophy
Harmony, Nature, Healing, Community.
We are, each of us, Fundamentally Harmonic.
I empower others to reclaim their authentic voice in order to live the life they desire and deserve.
"Sound is infinitely connected to the worldview, energetic texture, and character of water. Sound has an affinity to water...Sound, like water, makes its presence and imprint known through filling and rhythmic flowing...through the stillness that underlies all action." ~ Donna Carey & Marjorie de Muynck, There's No Place Like Ohm
Through the myriad properties of sound, whether in sound tuning sessions, sauntering summits in the natural world, or through joining our voices with others in singing, we are reconnected to our inherent Fundamentally Harmonic Selves.
Our Story
"Her harmony came not through the complete absence of chaos, but in realizing that she was resilient enough to come back stronger from anything that she would endure."  ~ Becca Lee, Australian poet
We are, each of us, Fundamentally Harmonic. We need to simply make space for the return to that fundamental frequency which is ours alone. We are committed to providing and facilitating opportunities for those who seek to create harmony through the chaos.
Meet Marybeth
I am an overachieving educator/director/musician/soloist living in the Monadnock Region of New Hampshire.
I live, breathe, and am consumed with music and teaching (private in-home and online voice and piano lessons for ages 6 and up). There is NO reason you should not excel at accessing and owning our unique voice, be it speaking, singing, playing an instrument, or discovering one's vocation through finding your unique voice.
I founded and direct Two Rivers Community Choir, TraverSing Hospice and Palliative Choir, as well as Voicings Adventure Singing Camp and am the chapter leader for Monadnock Area Justice Choir.  I have spent a lifetime synthesizing my voice, vocation, and livelihood, creating avenues to assist others in doing the same.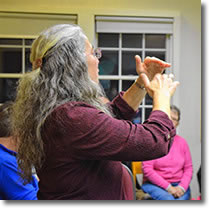 Create Harmony from the Chaos
Schedule a session or workshop. Join an excursion. Reclaim your Fundamentally Harmonic self.